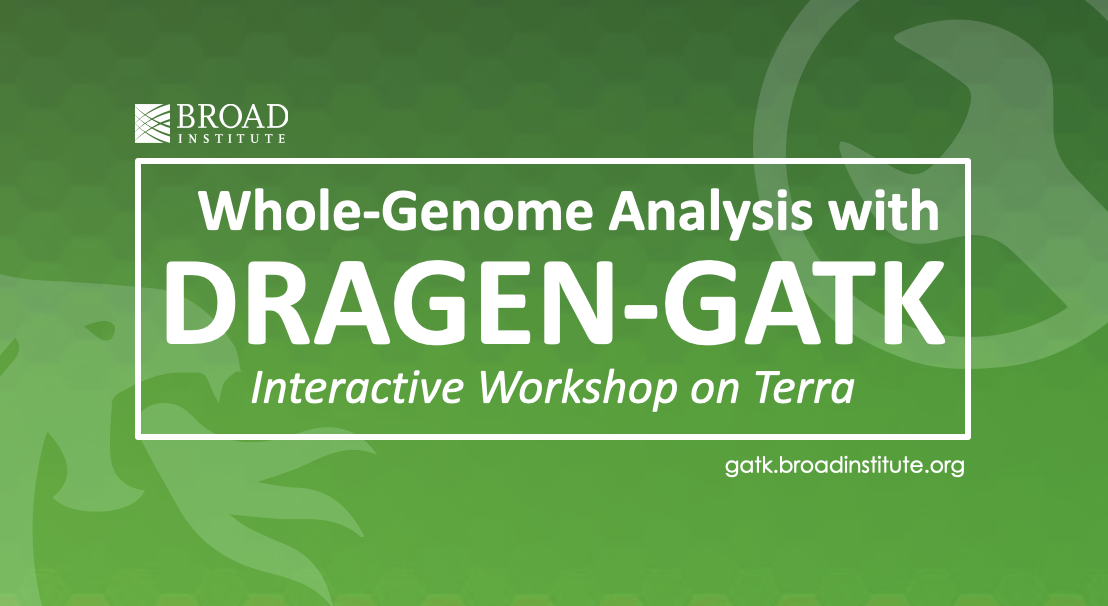 This October 21, join us for an interactive online workshop on Whole-Genome Analysis with DRAGEN-GATK! In this webinar, you will get the opportunity to will learn what it is, why it exists, and how to use it. Then, you'll get an opportunity to use DRAGEN-GATK in a controlled demo environment within Terra.
Event Details
When: October 21, 2022 from 10:30AM–12:30PM EST.
Where: On Zoom! You will be given Zoom instructions after you register.
How: Registration is required for this event. Please fill out the linked form to access the Webinar instruction.
What: Be ready to use DRAGEN-GATK (on the Terra platform), and ask any questions on our Webinar Discussion Forum.
We want your questions!
We have opened a special Webinar Discussion Forum for the webinar event. We encourage you to post your questions about DRAGEN-GATK in this space, so that we may answer them during the webinar!
Requirements
For this session, we will use Terra to do hands-on activities. Prior to attending, you will be required to register for a free Terra account (if you do not already have one), and submit your Terra account email address to instructors using form information that will be sent to you prior to attending — this is so that you can access a free billing project in order to access the interactive DRAGEN-GATK workspace.
Please reach out if you have any issues with registration or questions about the workshop.
Important Links
Presenters
Presentations - Derek Caetano-Anollés (Senior Science Writer, Data Sciences Platform) - James Emery (Senior Software Engineer, Data Sciences Platform) - Michael Gatzen (Senior Computational Associate, Data Sciences Platform)
For more information on GATK, visit https://gatk.broadinstitute.org For more information on DRAGEN-GATK, visit https://gatk.broadinstitute.org/hc/en-us/articles/360045944831
Video Recording
Further Resources
For more information on GATK, visit https://gatk.broadinstitute.org
For more information on DRAGEN-GATK, visit https://gatk.broadinstitute.org/hc/en-us/articles/360045944831
For more information on Terra, visit https://terra.bio/